Karl with the Giants Man v Food team
Five Huddersfield Rams players took on the Grosvenor Casino Man v Food challenge, where they scoffed their way through a giant burger, 2 fries and jugs of water beating the Huddersfield Giants team.
Luke Booth, Anthony Brown, Karl Haigh, John Piper and James Sunderland took on the challenge, put on by club sponsor Grosvenor Casino Huddersfield, and ate their way through the 1kg burger, sides and drinks faster than Giants' team of Robbie Paul and co.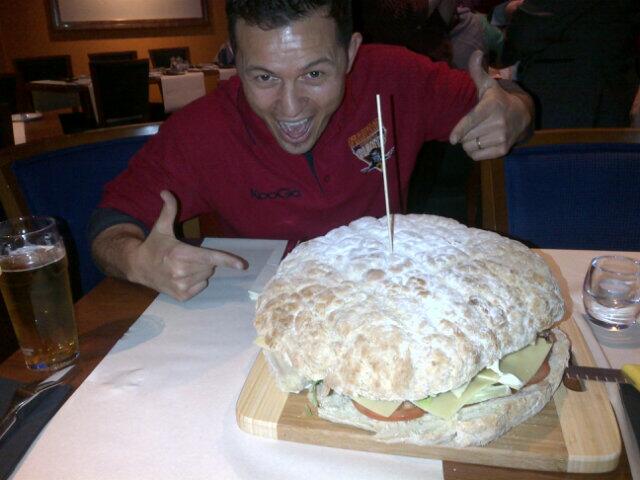 Image courtesy of Twitter
Before the start of the event Robbie tweeted this picture, holding the caption: "My Everest: Giant Burger Challenge at Grosvenor Casino Huddersfield."
Later that evening he tweeted: "It has destroyed me and I ate the least. #SickAsADog."
His feelings were echoed by Rams veteran, Anthony Brown, who summed it up by saying: "Oh my god! I want to die."
Rams player and European Vice-Captain, Luke Booth, said:
"We are the biggest eaters in Huddersfield! Karl Haigh, James Sunderland, John Piper Antony Brown and myself are chicken dinners winners! Boom! #sick."
The players now look forward to their trip to Birmingham this weekend where they face Birmingham Bears. The ball up is at 2pm and a report will be available at the end of the match.